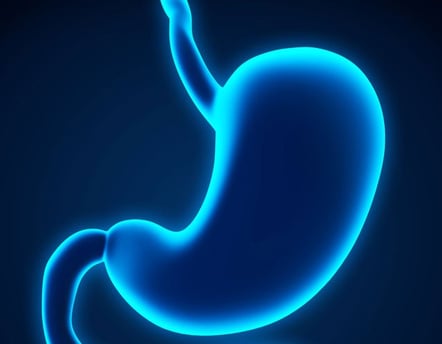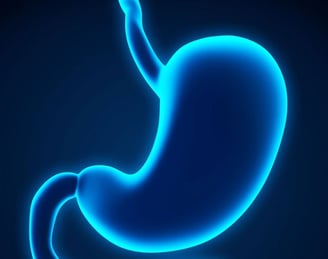 WHAT IS STOMACH/ GASTRIC CANCER?
It is an abnormal and unrestricted growth of stomach tissue which tends to invade the adjacent structures and spread through lymph and blood. It grows into a mass/ tumour or as an ulcer. It can arise from any component of the stomach wall, however commonest one is adenocarcinoma which arises from the glands of the stomach lining.
WHO IS AT RISK OF GETTING STOMACH / GASTRIC CANCER?
The major risk factor for gastric cancer are infection with Helicobacter pylori, an organism notorious for causing chronic inflammation of the stomach. Lifestyle risk factors include smoking, excessive consumption of salted meat or fish, smoked food and foods high in nitrates. There are certain syndromes, wherein gastric cancer is genetically linked and individuals can inherit this cancer. Some of the syndromes are:
Hereditary diffuse gastric cancer

Li Fraumeni syndrome

Hereditary non polyposis colorectal cancer or Lynch syndrome

Juvenile polyposis syndrome

Peutz Jeghers syndrome

Classic or attenuated Familial Adenomatous Polyposis (FAP/aFAP)
WHAT ARE THE SYMPTOMS OF GASTRIC CANCER?
Unexplained weight loss

Early satiety

Weakness

Upper abdominal pain, pressure or burning

Worsening indigestion or heartburn

Vomiting of old food particles or frank blood

Lump in abdomen/ Abdominal distension

Mass above the left collar bone or at umbilicus

Passage of black tarry stool

Unexplained anaemia

Early gastric cancer may have no signs or symptoms. Some may be diagnosed incidentally during endoscopy.
WHAT ARE THE TESTS TO DIAGNOSE GASTRIC CANCER?
Upper gastrointestinal endoscopy and biopsy: visualising the entire stomach from within and taking specimen from any suspicious areas and sending it for pathological testing

Studies to decide stage of cancer: Computed Tomogram (CT scan), PET scan. Detailed imaging of the stomach and surrounding structures, to detect spread of the disease and planning for surgery
WHAT ARE THE STAGES OF GASTRIC CANCER?
There are four stages
Stage I: When cancer is within the lining of the stomach

Stage II: When cancer has involved the entire thickness of stomach and few lymph nodes

Stage III: When cancer has involved adjacent organs and considerable lymph nodes

Stage IV: When cancer has spread to distant organs
WHAT ARE THE TREATMENT OPTIONS FOR GASTRIC CANCER?
Treatment depends on various factors, most important being stage of the cancer and general health of the patient
Very early tumours can be treated by endoscopic techniques like endoscopic resection. These therapies avoid a major surgery and removal of the stomach. But they require strict follow up and repeated endoscopies to see that disease does not recur.

Surgery: This means removal of a part or entire stomach with surrounding lymph nodes and subsequently maintaining the continuity by joining to the intestine and esophagus. This can be done as an open surgery or minimally invasive techniques (laparoscopic or robotic). After this surgery additional treatments may be required in form of chemotherapy or radiation depending on the pathology of the tumour and if any residual disease is left behind. Surgery is also used for staging the disease (staging laparoscopy).

Radiation: Radiation given to kill the tumour cells, either as treatment for advanced/ inoperable cases, before or after surgery or as part of combination therapy.

Chemotherapy: Injectable drugs are given either before or after surgery, or as a part of combination therapy. Currently most of the stomach cancers are treated with perioperative therapy i.e. neoadjuvant chemotherapy f/b surgery f/b adjuvant chemotherapy.

Palliative methods: Sometimes when the disease is diagnosed in advanced stages, only palliative treatment is offered for maintaining quality of life, symptom control, nutritional support and prolongation of life. This may entail use of surgery (palliative bypass), radiotherapy (Hemostatic) or chemotherapy. At times a tube (stent) can also be inserted to make a temporary passage in the stomach to allow food to pass (endoscopic stenting).
FOLLOW UP
After any modality of treatment, a strict follow up with oncologist is important to pick up complications or recurrence of disease as early as possible.
Stomach, commonly known as food pouch of the body, is a muscular organ with rich blood supply and lies in the abdominal cavity. It receives food boluses from esophagus, temporarily stores it, churns into small pieces, starts digesting the food and propels it into the duodenum.