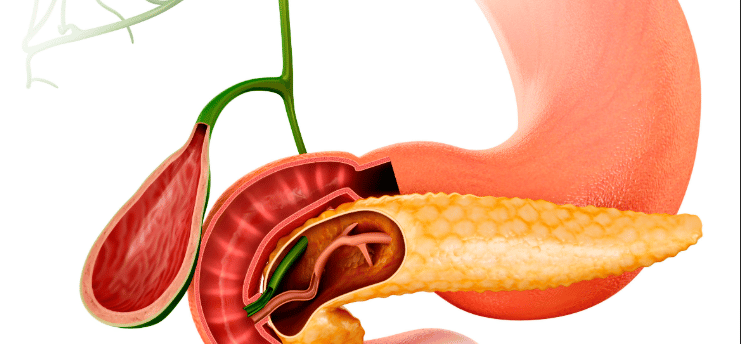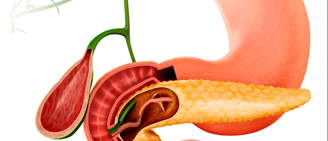 WHAT IS PANCREATIC CANCER?
Abnormal and unrestricted growth of normal pancreatic cells, arising from any component (exocrine or endocrine) and having tendency to invade the adjacent structures. It grows into a mass or a tumour or a fluid filled 'cyst'. There are two main types, cancers arising from the hormone producing cells (endocrine) and those arising from the ducts of the pancreas (exocrine).
WHO IS AT RISK OF GETTING PANCREATIC CANCER?
Alcohol

Tobacco consumption

Obesity

Genetic disorders

Chronic inflammation of pancreas

Heavy metal and chemical exposure
Certain genetic disorders are associated with pancreatic cancer. These are:
Hereditary pancreatitis

Peutz - Jeghers syndrome

Cystic Fibrosis

Familial melanoma syndrome

Hereditary breast and ovarian cancer syndrome

Lynch syndrome
WHAT ARE THE SYMPTOMS OF PANCREATIC CANCER?
These include:
Jaundice/ Unexplained weight loss

Diarrhoea, or greasy floating stools

Chest pain, pressure or burning/ Worsening indigestion or heartburn

New onset diabetes/ worsening diabetes

Passage of black tarry stools

Pancreatic cancer may also have no signs or symptoms. Some may be diagnosed incidentally.
WHAT ARE THE TESTS TO DIAGNOSE PANCREATIC CANCER?
Computed Tomogram (CT scan), PET scan and MRI: radiological tests are advised for detailed assessment of the pancreas and surrounding structures, to detect spread of the disease and planning for future treatment. Dedicated pancreas protocol (Triphasic CT scan is the most important initial test for this purpose.

Endoscopy: Can be combined with ultrasound to detect small tumours and take biopsy of tumour. This is called ERCP/ EUS. ERCP may also be advised in case of obstructive jaundice with cholangitis, hypoalbuminemia or to relieve jaundice before starting chemotherapy in borderline resectable/ locally advanced or in palliative settings.

Sr. CA 19-9 levels: This marker itself is not diagnostic of pancreatic cancer, but can be used as an adjunct/ for monitoring.
WHAT ARE THE STAGES OF PANCREATIC CANCER?
There are four stages
Stage I: When cancer is within the pancreas

Stage II: When cancer has spread beyond pancreas but not into major blood vessels

Stage III: When cancer has involved major blood vessels

Stage IV: When cancer has spread to distant organs
WHAT ARE THE TREATMENT OPTIONS FOR PANCREATIC CANCER?
Pancreatic cancer treatment depends on various factors, most important aspect is the thorough evaluation of disease process and general health of the patient.
Surgery: This entails removal of the part or entire pancreas and surrounding lymph nodes. This can be done as an open surgery or minimally invasive techniques (laparoscopic or robotic surgery). After this surgery additional treatments may be required in form of chemotherapy or radiation depending on the pathology report.

Chemotherapy: Injectable drugs are given either before or after surgery, or as a part of combination therapy.

Radiation: Radiation given to kill the tumour cells, either as treatment for advanced/ inoperable cases, before or after surgery or as part of combination therapy.
FOLLOW UP
After any modality of treatment, a strict follow up with your oncologist is important to pick up complications or recurrence of disease as early as possible.
Pancreas is a leaf like gland in the deeper portion of the abdomen. It produces various enzymes for digesting food, controlling intestinal motility and also produces insulin, the major hormone for control of glucose levels of the body. It releases its hormones via a channel or 'duct' , which often joins the bile duct before opening into the intestine. Anatomically pancreas is divided in to head, uncinate process, neck, body and tail. Cancer can arise from any of these anatomical regions.